A relative newcomer to the sector, ATFX which was founded in 2014, brings a fresh and distinct approach to the sector.  Traders are provided with a streamlined and cost-effective means of low-latency access into the financial markets. Trading analysis and execution are carried out through the MetaTrader MT4 platform and the firm has a clear focus on providing traders access to good market flow and tight trading spreads.  There are some, but not many 'added extras' to be found on the broker's home website which has an attractive aesthetic and is easy to navigate.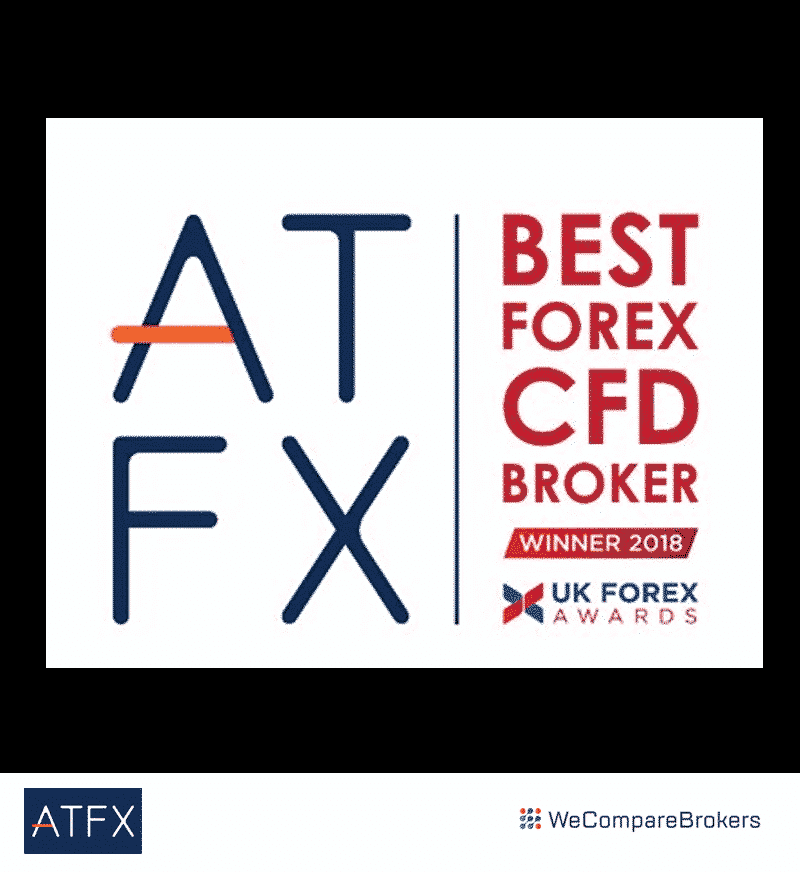 Companies within the ATFX group operate out of various domiciles and therefore the service is internationally available.
ATFX build their commissions into their bid/offer spreads.  This ensures the pricing schedule is transparent and easy to compare with those of other brokers.  In this respect ATFX do well as they are regarded as offering competitive spreads.  Spreads on stock CFDs can be as low as 0.05 pips and on major currencies they can be as low as 0.6 pips.  Spreads can vary across market hours but it is worth noting ATFX offer 24/5 non-stop trading.
Leverage for retail accounts is capped at 1:30 which is standard market practice.  Those that qualify for one of the other accounts on offer can have this extended and see leverage levels of up to 1:200 applied to their trading.
Whilst third parties may still apply a fee the broker itself does not charge for processing deposits and withdrawals of funds.
There is a range of accounts available with the major pre-requisite for upgrading being increased cash balances.  The account types are Retail-Standard, Retail-Edge and Professional and there is also Spread betting accounts available to UK citizens.  The terms that apply to each account vary but it is good to see ATFX offering account features that traders care about, including negative balance protection, STP processing and improved commercial terms.
ATFX assign a dedicated account manager to each new client.  This is a great, free resource and the advice offered is informed, supportive and tailored to each trader's needs.  There is 24/5 UK-based telephone support and email addresses are also broken down by department so client queries can be addressed directly to the right area.   The telephone support is offered in up to 13 languages including Chinese, Tagalog and Thai.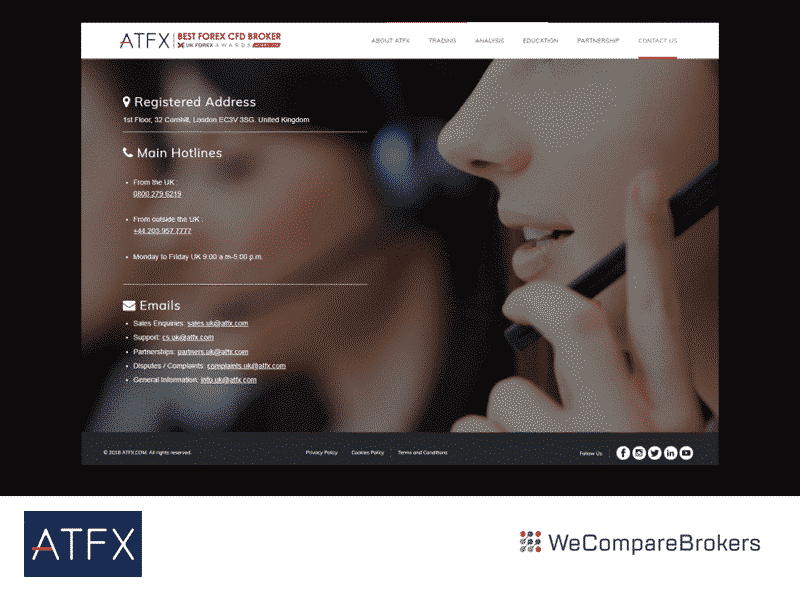 ATFX customer support is based on quality rather than quantity.  The phone desk hot-lines are only available from 9 am – 5 pm UK time which could hinder some traders.  On the flip side, the support team are very proficient and the trading platform MT4 has a well-earned reputation for being robust and reliable.
The ATFX research offering, whilst smaller than that provided by other brokers does have a few distinct and attractive features.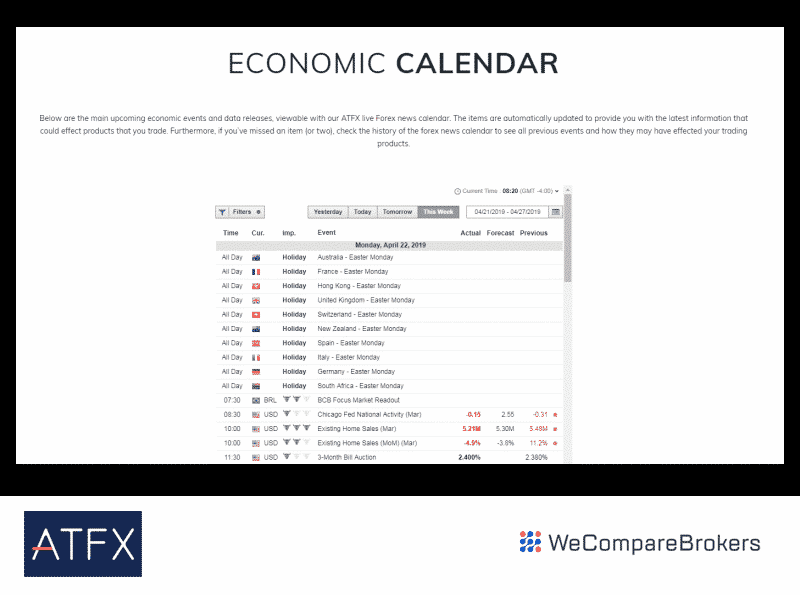 The Economic Calendar which offers an outline of upcoming events is fairly uninspiring but the Trading Central area has an attractive aesthetic and an interesting approach to giving traders the right tools with which to trade.
The Daily Market Reports offer a well laid out summary of market events and some trading opportunities.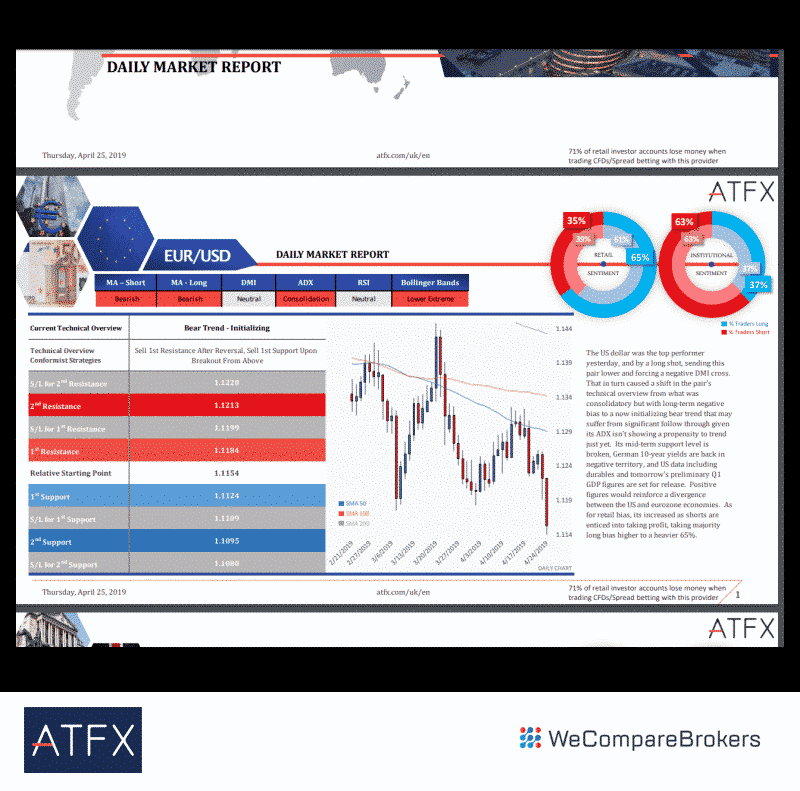 There are also weekly reports on Market Fundamentals.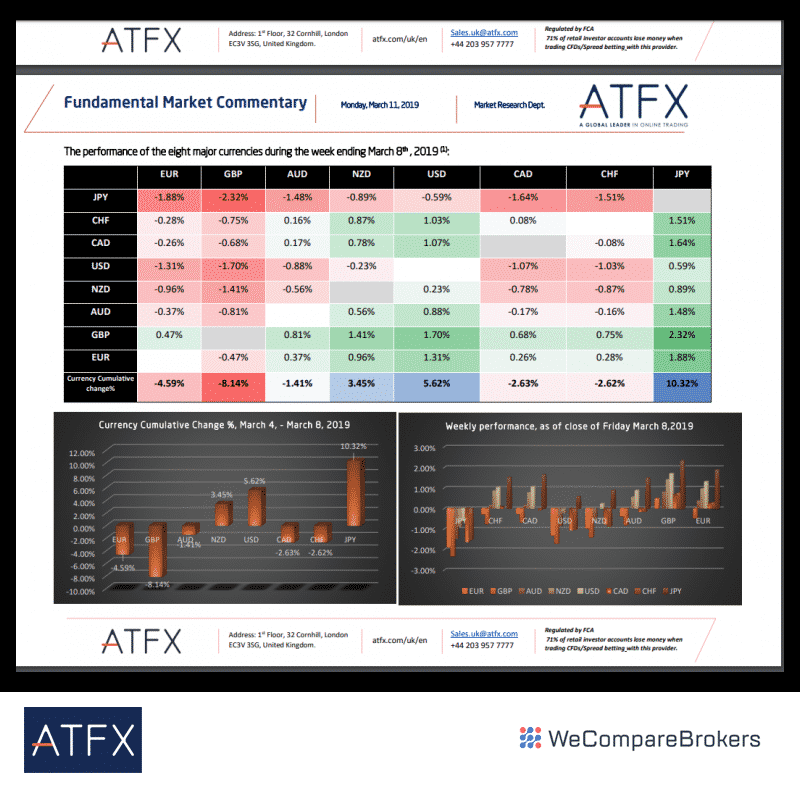 There are also resources to draw on that are more relevant to 'how to trade' rather than 'what to trade'.  The ATFX Webinars for example include sections on 'Mastering Japanese Candlesticks' and are provided free of charge.
There is also the option to access the educational material provided by MetaTrader.  This includes a range of high-quality video tutorials that form a good start in terms of setting traders up to operate in the markets.
The MQL community also offers a Traders Forum where account holders can ask questions and share information on the platform itself of the wider markets and trading ideas.  The topics discussed lean more towards developing the skills associated with successful trading as oppose to fundamental analysis of particular markets.  This is in line with MT4 being a tool associated with technical trading strategies and reflects the type of traders that ATFX will most appeal to.
In terms of research, ATFX can be considered a 'no-frills' broker.  Whilst this allows them to focus on other areas of their client offering it would be an improvement if more proprietary research was available.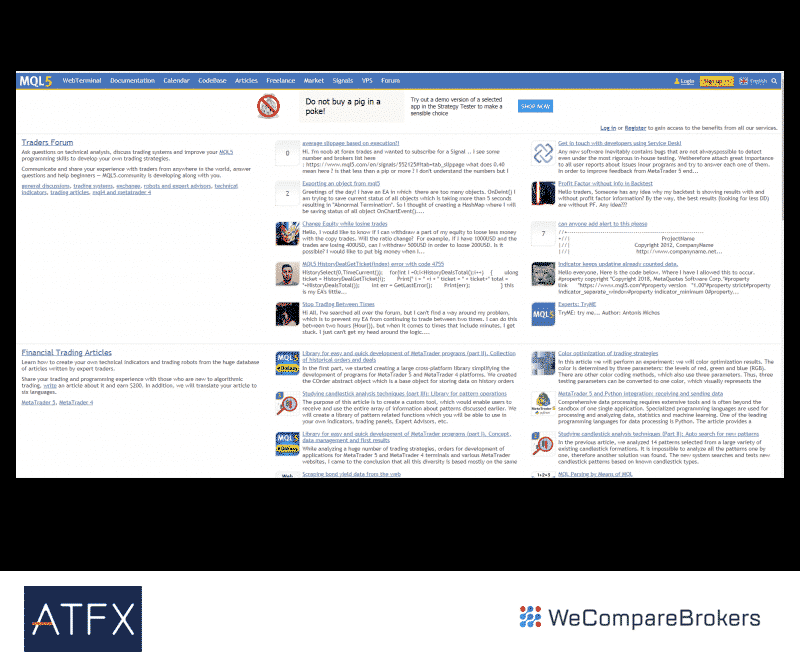 More information about the markets, the firm and potential face-to-face meetings are provided on the ATFX's social media accounts.
Opening an account with ATFX is a straightforward process.  The Demo accounts are provided free of charge and do not require any sample payments to be made to be activated and setting one up takes a few moments to do.  As you would expect, registering for a Live account is more demanding.  The process is in line with current standard market practise and reflects the compliance regulations that brokers need to adhere to.  Funds can be transferred in a variety of ways including: bank transfer, Credit/Debit cards and E-wallets (including Neteller and Skrill).
Whilst MT4 is a technically a stand-alone platform the registration process leads new users to the appropriate log-in screens and hand-holds users into the trading area.  Even with this relatively fool-proof system in place ATFX also provide a dedicated account manager to help new users get to grips with the ATFX environment.
The ATFX platform gives the impression of being particularly suited to the more experienced trader.  For those that are used to navigating the markets the combination of the MT4 platform and tight trading spreads will tick a lot of boxes.  As some brokers restrict scalping based strategies it's worth noting that ATFX do not.
One-click trading is possible (and actually set as default in the demo account).  More complex orders can also be constructed, with a choice of parameters that include: Market Orders, Pending Orders, Stop Loss and Take Profit.
Moving from market to market is as easy as dragging and dropping the ticker you want to trade into your template dashboard.  Alternatively each of your specialist markets can be built on separate (and savable) 'tabs'.
When executing trades there is a real 'snap' to the order processing, the MT4 platform continuing to cement its reputation as a home of low latency trading.  With ATFX operating a NDD (No Dealing Desk) trading model there is a comforting feeling that trading is part of the main market flow.
The ATFX trading service is available on mobile devices through iOS and Android apps and account information is mirrored between the desktop and mobile versions.  The mobile version of the MT4 platform has all the major functionality points that a trader would look for including the use of up to 9-time intervals and up to 30 charting indicators.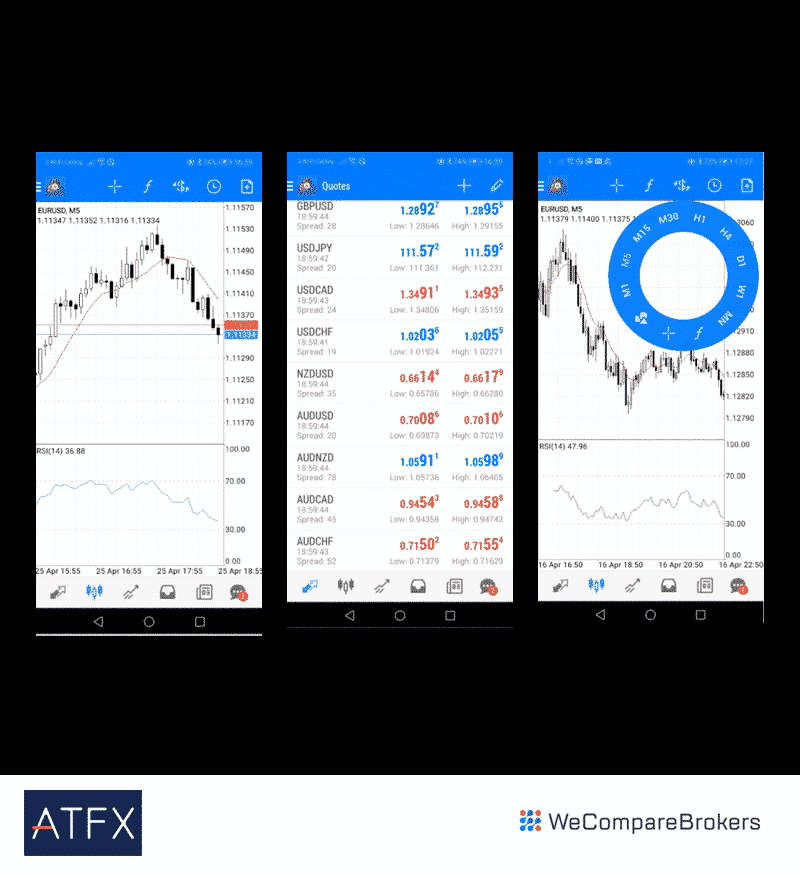 Robo Trading
One of the advantages of MT4 as a platform is the ability of ATFX clients to use Expert Advisors (EA's) and a unique 'store' of automated trading robots and technical indicators. EA's use custom developed software to provide automated trading strategies for users to follow.  This is an incredibly useful resource to tap into, the MQL community providing a whole host of trading ideas with which to engage.
EA's essentially provide automated trading, allowing those that can't monitor the markets 24/7 to follow strategies that they would otherwise be unable to.  All forms of Copy Trading rely on the 'follower' carrying out, and updating, appropriate levels of due diligence on the signal provider.
One particularly neat aspect to MT4 and EA's is that the next intuitive step for a trader to take is to build their own Robo models.  The resources available include price data required for back-testing your own algorithmic models.  What's more, should that go on to be reliably profitable, you'd be based one of the best platforms to expand into supplying the service to other traders.
Crypto Currency
ATFX support cryptocurrency trading through the MT4 MetaTrader platform.  For added convenience positions are held in CFD form which means that clients do not need to set up a separate account at an exchange, instead they can trade the crypto markets in the same way they do other ATFX instruments.  Another benefit of using CFDs is that this enables the taking of short as well as long positions in the market.  Given the sometimes speculative nature of the crypto sector this ability to short-sell may well appeal to some.
Trading is offered in some of the more familiar names Bitcoin, Ethereum, Litecoin and Ripple.  Commissions are included in the bid offer spread and rates are competitive.
Providing only four markets when other platforms offer more, means the ATFX offering may look restricted.  Another consideration is that trading is only supported on a 24/5 basis rather than a 24/7 basis.  Perhaps as a reaction to this, the terms and conditions of trading are looser here than at some other brokers.  Whilst the standard leverage rate in the market is 1:2 ATFX offer leverage of 1:5 on Bitcoin and Ethereum.  Minimum tradeable lot size is 0.1 and maximum lot size is 10.  So whilst there are fewer crypto markets to choose from there is chance to gain greater exposure.  It should of course be highlighted that the crypto markets are renowned for their volatility and increased exposure can mean increased losses as well as profits.
ATFX have only recently moved into this space so with their track record for innovation and development it may well be that there is something in the pipeline.
Regulatory details
ATFX is a subsidiary of AT Global Markets (UK) Limited which is authorised and regulated by the Financial Conduct Authority in the UK.   This firm is also a member of the Financial Services Compensation Scheme (FSCS) which provides cover of up to £50,000 per person (per firm).
Accounts are protected though the use of leading (SSL) encryption technology and client funds are held in segregated trust accounts at the platforms custodian bank, Barclays Bank PLC.
Clients that are not domiciled in the UK but who are based in the European Economic Area hold a relationship with ATFX Global Markets (CY) Ltd.  This entity that is regulated by CySec (Cyprus Securities Exchange Commission) and the Investor Compensation Scheme run under this umbrella provides cover on funds up to a total of € 20,000.
International clients hold their relationship with AT Global Markets Ltd that is a company registered in St.Vincent & the Grenadines.
Final Thoughts
ATFX offer streamlined access into the heart of the financial markets.  The ever popular MT4 platform is robust and effective and will appeal to traders looking to invest time and resources into their trading strategies.
The range of markets and number of research and learning tools are not as great as at other brokers but what is available is appropriate and effective.  The degree of regulatory protection offered varies according to the account holder's domicile but those in the UK would struggle to find a broker offering more protection than ATFX do.
ATFX don't try to be everything to all traders but the concise and efficient feel to the site and trading platform are backed up by competitive spreads and access to strong market flow.
Their Most Recent Risk Warning – April 2019
CFDs are complex instruments and come with a high risk of losing money rapidly due to leverage. 71% of retail investor accounts lose money when trading CFDs/Spread betting with this provider. You should consider whether you understand how CFDs/Spread betting work and whether you can afford to take the high risk of losing your money.
GO TO THE compare brokers